Knights of Columbus Founding
Principles and Core Values

Father Michael J. McGivney founded the Knights of Columbus on the principles of Charity, Unity,
Fraternity, and Patriotism. Today, these principles serve as the foundation of our Core Values:
Integrity: Firm adherence to ethics, honesty, and a moral code.
Professionalism: Promoting the highest standards in all we do.
Excellence: Leading by example and constantly striving to be the best.
Respect: Treating each other with the highest regard.
The Knights of Columbus is an organization deeply rooted in the Catholic faith that is based on Charity, Unity, Fraternity & Patriotism with many great benefits for both the member and all of his family. We are here to serve our parish, and the greater faith community. Brandon Hedinger is the Grand Knight at Pax Christi and can be reached at brandon.hedinger@gmail.com
The Knights of Columbus at Pax Christi host a 40 Cans for 40 Days Food Drive for the Catholic Action Center and God's Pantry during Lent. The Knights of Columbus also organize drives throughout the year based on need; the most recent being the collection of items to aid in the clean up efforts for the flooding in Eastern Kentucky. The Knights of Columbus meet monthly and also coordinate our monthly First Friday Eucharistic Adoration.
First Friday Eucharistic Adoration
After Noon Mass
Benediction is at 6:15 p.m.
Please sign up for a time in the book in back of the sanctuary near the candles.
Contact Dcn. Ed with questions:
tparsons@cdlex.org or 502-382-0145
I'm Interested in more information about the Knight of Columbus
For more information about the Pax Christi Knight of Columbus Council please contact Brandon Hedinger at brandon.hedinger@gmail.com
OUR HISTORY
FOUNDING AND EARLY ACTS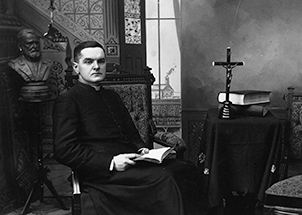 OUR FOUNDING
1882-1899
The Knights of Columbus is founded by Father Michael J. McGivney on Feb. 6, 1882 with a mission of charity. READ MORE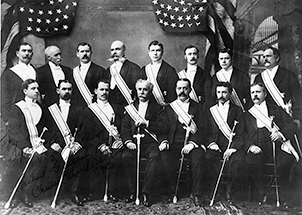 FLEDGLING TO THRIVING
1900-1909
The fledgling Order grows dramatically at the beginning of the 20th century to serve communities beyond the United States. READ MORE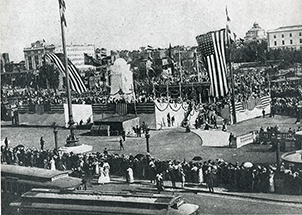 EVERYBODY WELCOME
1910-1918
During the Great War, Knights of Columbus Huts provide services under the motto "Everybody Welcome, Everything Free" – a philosophy upheld in today's charitable programs. READ MORE
CHARITY AND OUTREACH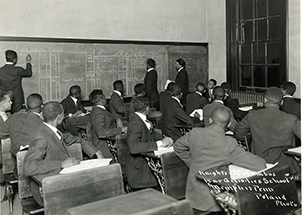 IN SEARCH OF LIBERTY
1919-1929
The Order spearheads anti-defamation work in the U.S. and takes a stands for religious freedom in Mexico. READ MORE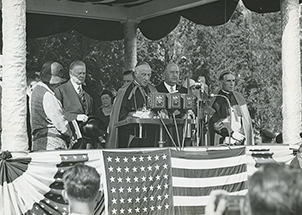 HELPING NEIGHBORS
1930-1940
The Great Depression leads to a renewed sense of volunteer service – and Knights across the nation step up. READ MORE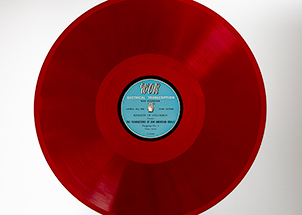 WAR & PEACE
1941-1950
Following the end of World War II, the Order turns its attention to the growing threats of communism and fascism, which threaten communities and religious freedoms. READ MORE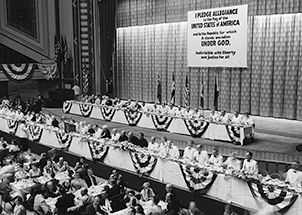 "ONE NATION UNDER GOD"
1951-1960
In 1954, the words "under God" are added to the U.S. Pledge of Allegiance completing an effort the Knights began three years earlier. READ MORE
REACHING NEW HEIGHTS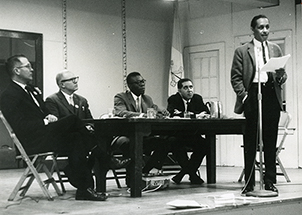 A TRANSFORMED CHURCH
1961-1978
The Order embraces the challenge of authentic ecclesial reform, while remaining faithful to timeless truths and traditional values. READ MORE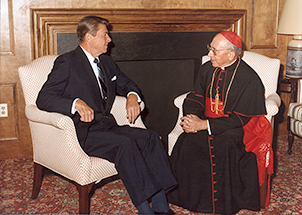 ONE CHRISTIAN FAMILY
1979-1999
During John Paul II's pontificate, the Knights strengthens ties to the Church through increased support of the Vatican. READ MORE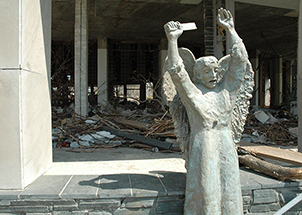 THE NEW MILLENNIUM
2000-2009
The Order builds upon its tradition of charitable work and spiritual formation.READ MORE
PROTECTING CHRISTIANS
2010-2019
Iraqi Christians are displaced by ISIS and take refuge. The Knights build a program to support displaced Christians in the Middle East including food and health care. READ MORE
History information is taken from the Knights of Columbus Offical site. Visit Here